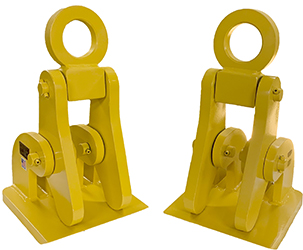 Dual Cam non-locking clamps to lift single or stacked plates. Used in pairs, sets of pairs, or in a tripod arrangement to lift and transfer plate in a horizontal position only.
Model HLD – Horizontal Lifting Clamp Features
Dual cam non-locking horizontal lifting clamp used in pairs or any multiple arrangements to lift and transfer a single plate or stacked plates in a horizontal position only
Non-locking
Rated to lift material with a surface hardness of up to 450 Brinell
Non-Marring is available for material with a surfaced hardness in excess of 450 Brinell
Extra Wide Jaw Openings available with Model HLDW
Special jaw openings are available upon request.
As the top sling angle increases, the clamp's rated capacity decreases.
Rated capacities are per pair:
0 – 60° top sling angle: 100% rated capacity
61 – 90° top sling angle: 75% rated capacity
91 – 120° top sling angle: 50% rated capacity