Model VL with Universal Shackle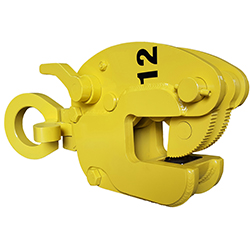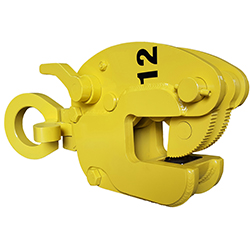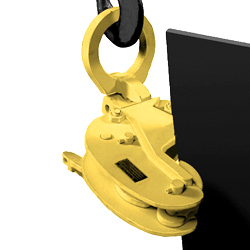 VL with a hinged lifting eye to allow for side loading up to 90°.
Model VL – Vertical Lifting Clamp – Locking with Universal Lifting Shackle
Allows for side loading of the lifting shackle up to 90°.
Rated lift capacity lowers as the angle of the pull increases.
Lifts from Horizontal to Vertical – 180° arc
Turn a single steel plate from horizontal to vertical to horizontal through a 180° arc.
Locks Open and Closed
Locks open to facilitate loading and unloading clamp and protects grippers from damage.
Locks closed onto the material for a more secure lift.
Remote Release Lock Handle
By attaching a tagline to the lock handle, the operator is able to lock open the clamp from a distance when the load is at rest and secured.
3-Point Grip System
The unique design has 2 upper grippers and 1 lower gripper on our 2-ton and later capacities – providing for more stability and longer gripper life.
Rated to lift material with a surface hardness of up to 450 Brinell
Wide Jaw Openings – 2 to 3 times larger than other brands
Lower upfront clamp cost, more diverse lifts, and less operator change-out time.
Working Parts Enclosed
Working parts remain inside the body when the clamp is locked closed and when the clamp is locked open.
Protects parts from damage when rolling material over and when the clamp is stored.