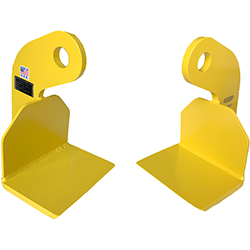 Model PH is a non-locking clamp used to move plate stacks and bundles.  It is used in pairs and tripod arrangements.
Model PH – Horizontal Plate Hook
Features
Designed for lifting plate and plate bundles.
Must be Used in a Double, Triple or Quad Leg Sling.
Rated capacities are per pair.
All plate hooks load tested to 300% WLL and sent with Proof of Load test certification.
Top Angle must be between 45 and 60 degrees.
Also Available with handle for ease of placement.