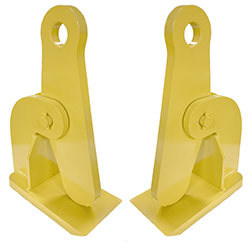 Model HLW  is a horizontal lifting clamp with Extra Wide Jaw Opening. Used in pairs, sets of pairs, or in a tripod arrangement to lift and transfer plate in a horizontal position only.
Model HLW – Horizontal Lifting Clamp Features
Horizontal Lifting Clamp for plate steel
Used in pairs or any multiple arrangements to lift and transfer a single plate or stacked plates in a horizontal position only.
Non-locking
Rated to lift material with a surface hardness of up to 450 Brinell
Non-Marring is available for material with a surfaced hardness in excess of 450 Brinell
Special Jaw Openings Available
As the top sling angle increases, the clamp's rated capacity decreases.
Rated capacities are per pair:
0 – 60° top sling angle: 100% rated capacity
61 – 90° top sling angle: 75% rated capacity
91 – 120° top sling angle: 50% rated capacity