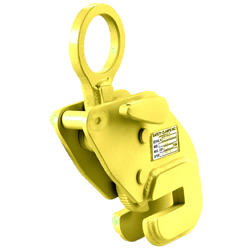 Structural Lifting Clamp with Horizontal Lift Only
Capable of lifting, transferring, and positioning steel beams, plate, and other structural shapes.
The split lower jaw allows for the lifting of beams from the ends as well as the flanges.
Model HBC – Structural Lifting Clamp Features:
Locks Open and Closed
Locks open to facilitate loading and unloading clamp and protects grippers from damage.
Locks closed onto the material for a more secure lift.
Remote Release Lock Handle
By attaching a tagline to the lock handle, the operator is able to lock open the clamp from a distance when the load is at rest and secured.
Rated to lift material with a surface hardness of up to 450 Brinell
2, 4, & 8-ton lift capacities have dual upper gripping cams for more stability and longer gripper life.
Stainless serrated or non-marring grippers are also available.
Special Jaw Openings available upon request
Working Parts Enclosed
Working parts remain inside the body when the clamp is locked closed and when the clamp is locked open.
Protects parts from damage when in use and when the clamp is stored.
---