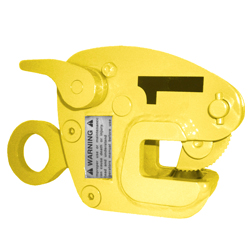 A compact lighter weight version of the Model VL with a short jaw to lift smaller objects. With all the standard features of the big clamps, the Model VL-SJ (short jaw) is ideal for shops and work stations where the operators primarily lift smaller plates and objects that may not have as much jaw clearance for the larger clamps to safely grip.
Model VL-SJ – Vertical Lifting Clamp Features
Lighter Weight
Weighs approximately half as much as the same rated capacities of our larger-jaw Model VL clamps.
Lifts from Horizontal to Vertical – 180° arc
Capable of lifting material from a horizontal to vertical position before vertically transferring the material to another location. It is also designed to rotate material from a horizontal position to vertical and then roll the material over on it's other side through a 180° arc.
Locks Open and Closed
Locks open to protect the grippers when loading and unloading clamp.
Locks closed onto material for a more secure lift.
Remote Release Lock Handle
By attaching a tag line to the lock handle, the operator is able to lock open the clamp from a distance when the load is at rest and secured.
Rated to lift material with a surface harness up to 450 Brinell
Also available with Stainless Serrated Grippers to prevent material contamination.
Special Jaw Openings Available
Fit the jaw opening to your material thickness range.
Extend the grippers out for clearance.
Shape the jaw opening to accommodate your lift.
Working Parts Enclosed
Working parts remain inside the body at all times whether in the "locked closed" position or the "locked open" position. This protects the working parts from damage when rolling material over and when the clamp is stored, and provides for longer clamp life.
Gripping Cam and Gripping Pad
Single gripping cam and a self aligning gripping pad on all capacities. Gripping pad is self aligning for increased surface contact.
High Strength Shock Resistant Steel
Provides for longer clamp life.