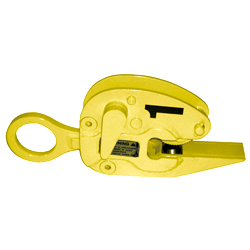 The Model VLX is the Model VL with a specially designed Extended Wedge Shaped Lower Jaw that allows the operator to wedge the clamp between the top two plates of stacked steel. Incorporates all the standard features of the Model VL.
Model VLX – Vertical Lifting Clamp Features
Lifts from Horizontal to Vertical – 180° arc
Capable of lifting material from a horizontal to vertical position before vertically transferring the material to another location. It is also designed to rotate material from a horizontal position to vertical and then roll it over on it's other side through a 180° arc.
Locks Open and Closed
Locks open to protect the grippers when loading and unloading clamp.
Locks closed onto material for a more secure lift.
Remote Release Lock Handle
By attaching a tag line to the lock handle, the operator is able to lock open the clamp from a distance when the load is at rest and secured.
Also available: Double Remote Locking Handle that also allows the operator to lock the clamp closed when loading the clamp from a distance using a second tag line.
3 Point Grip System
Unique design has dual upper grippers that rotate into the jaw and a self aligning lower gripper pad to give you 3 separate gripping points for more stability and longer gripper life. Available on rated capacities of 2 ton and up.
Rated to lift material with a surface harness up to 450 Brinell
Wide Jaw Openings – 2 to 3 times larger than other brands
Safety Clamps, Inc. offers the widest standard jaw openings in the industry. Lower up front clamp cost, more diverse lifts, and less operator change out time.
High Strength Shock Resistant Steel
Provides for longer clamp life.
Working Parts Enclosed
Working parts remain inside the body at all times whether in the "locked closed" position or the "locked open" position. This protects the working parts from damage when rolling material over and when the clamp is stored and provides for longer clamp life.