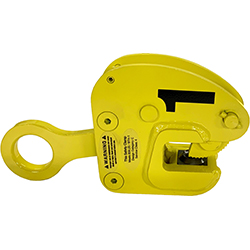 The Model VSL is a spring-loaded vertical lifting clamp. With its automatic closing feature, it is capable of lifting material from a horizontal to a vertical position through 180 degrees. And if you are lifting stainless material and are concerned with the grippers contaminating the stainless, order your Model VSL with the optional serrated stainless grippers for a more secure lift with no contamination.
Model VSL – Vertical Lifting Clamp Features
Spring Loaded for automatic closing
Lifts from Horizontal to Vertical through a 180° arc
Capable of lifting material from a horizontal to a vertical position before vertically transferring the material to another location. It is also designed to rotate material from a horizontal position to a vertical one and then roll the material over onto its other side through a 180° arc.
Rated to lift material with a surface hardness of up to 450 Brinell
• Also available with Stainless Serrated Grippers to prevent material contamination.
High Strength Shock Resistant Steel
Provides for longer clamp life.
Working Parts Protected
Working parts remain inside the body at all times.  This protects the working parts from damage when rolling material over and when the clamp is stored and provides for longer clamp life.
Special Jaw Openings Available
Fit the jaw opening to your material thickness range.
Extend the grippers out for clearance.
Shape the jaw opening to accommodate your lift.